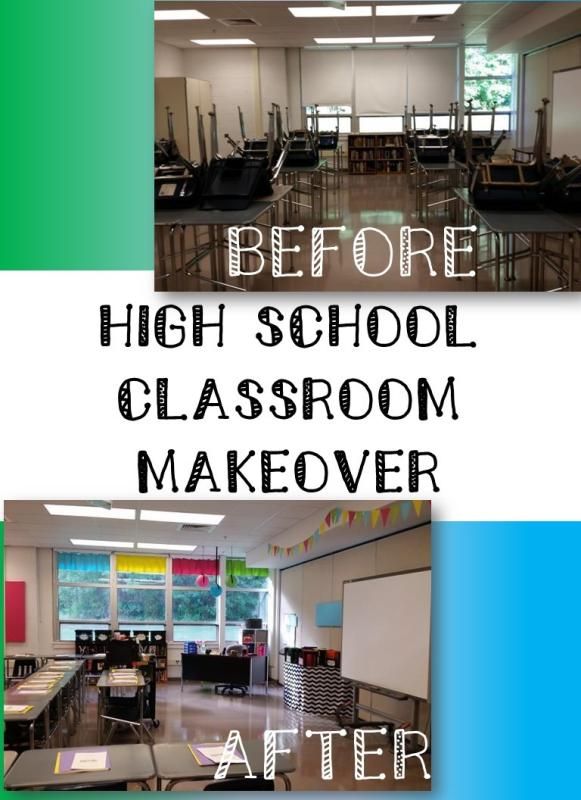 The 2014-2015 school year has offered something I had never experienced before: my very own classroom. During my first year of teaching, I used a cart to travel in style from classroom to classroom. When I found out that I would be getting my own classroom, I found myself on Pinterest more so than I'd like to admit, pinning everything from what to do with Popsicle sticks to bulletin board ideas. The problem that I ran into was the limited amount of high school classrooms. Don't get me wrong, I loved the elementary classrooms; they were so cute and colorful, but I knew that my teenagers wouldn't really get into owls and Dr. Seuss books.
With some inspiration from Pinterest and a color-themed classroom in mind, I set out on a three-day quest. Below are my before pictures.
Here is what I walked into:
Does anyone else love those room dividers as much as I do?
As you can see, there was A LOT of work that I had to do, and with school starting the following week, I had little time to prep.
I decided to start with the door since that would be my students' first impression. I had originally planned to cover the entire door with some kind of paper, but at the last minute, I decided to save myself the stress and instead just used a fun chevron border. I bought majority of my supplies at Becker's School Supplies and Party City.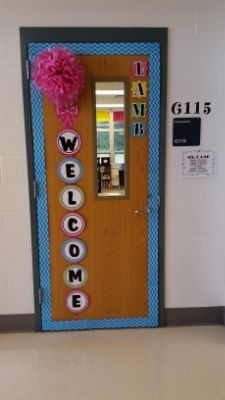 I was so happy to have so many huge windows in my room, but the window shades were falling off, didn't roll up, and they weren't pretty colors. Luckily, my fiance's sister had a sewing machine, so she whipped me up some pretty curtains to fit my theme. I got the cheapest fabric I could find from Jo-Ann's. I used the extra fabric to make a pennant for that odd space of wall up top (right).
In staying true to my color themes, I assigned a color to each one of my classes. That helped me stay organized. In the below picture, you can see my in-bins. I used a Cricut to make the labels. My sister-in-law also made the table skirts for me. I used Velcro strips to adhere them to the tables. Table skirts make ALL the difference!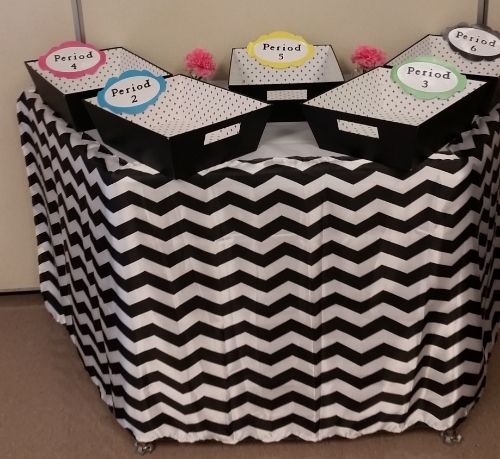 I saw a pin on Pinterest in which the teacher simply faced the book forwards, and I think that made all the difference in the presentation of some bookshelves that were left in my room.
I used ribbon to weave in and out of the milk crates that I bought from Target (they were around $3.00 during back-to-school shopping). Again, I labeled my bins with the same colors as the in-bins. These bins are storage bins for my students' folders and journals. Yes, they were color-coded too. :)
I LOVE the Chinese lanterns, and I was able to find some in the exact colors that I was looking for at Party City. I hung them in two corners of my room.
I am fortunate to have a pretty large classroom, but my OCD mind was having a hard time accepting that nothing was symmetrical, but what could I do? I did have two small bulletin boards to work with, and so I decorated them from an inspirational pin. I decorated both the same way except I tried to do some symmetry with the puffs. I bought the puffs from Party City. I could have made them myself for probably cheaper than what I paid, but I heard that it was a hassle.
I used a Boggle board on one of my boards. I found that many elementary teachers use them in their classrooms, and I thought how cool would that be to have one of my own? Again, I used my Cricut to cut out all of the squares. Even my teenagers love the Boggle board.
I also found that many teachers had an early finishers table. I decided to make an early finishers bulletin board. I stapled these folders to my other bulletin board and put fun educational worksheets in them. They can cash in a completed worksheet for a lollipop or piece of gum!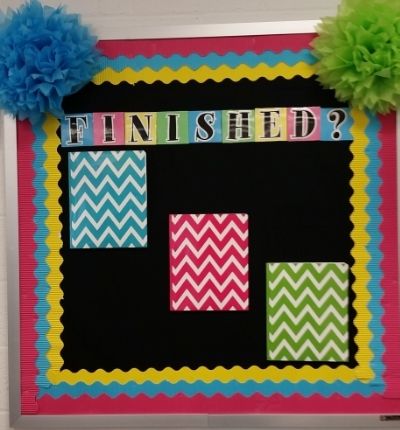 Although it took me what seemed like forever, I am so glad that I took the time to establish a welcoming and fun atmosphere in my classroom. My students like it; many of them have said it feels like there's about to be a party. You CAN decorate high school classrooms, and you CAN be inspired by elementary teachers!
Thanks for checking out my FIRST blog post!! Check back for more lesson ideas in the future.
Don't forget to check me out on Teachers Pay Teachers for some cool, engaging activities!
I'm also new to Pinterest (
The Engaging Station
) and Instagram. Click the badges below!